Mathematics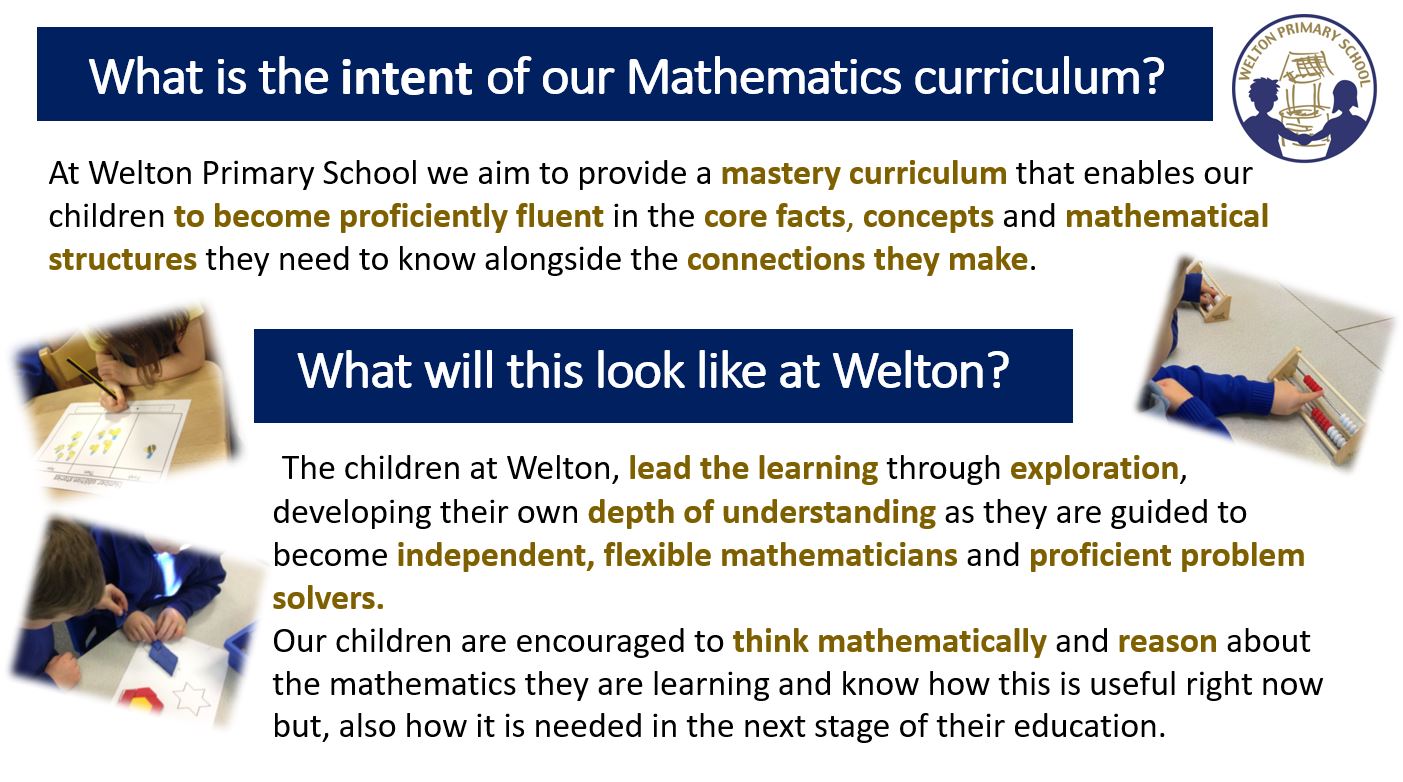 From our EYFS curriculum to Year 6, we adopt a 'Teaching for Mastery' approach with a philosophy that every child can achieve through a deeper understanding.
The Maths Implementation Lead is Mr M Bentham
Why is early maths so important?
'Mathematics plays a key role in a child's development. Very young children are naturally curious, noticing differences in quantity and the shape of objects, and using early mathematical concepts when they play. Mathematical understanding helps children make sense of the world around them, interpret situations, and solve problems in everyday life, whether that's understanding time, sharing amounts with their peers, or counting in play. Developing a sound understanding of mathematics when we are young is essential. Children's early mathematical understanding is strongly associated with their later school achievement. It has, therefore, a major impact on young people's educational progress and life outcomes'
EEF IMPROVING MATHEMATICS IN THE EARLY YEARS AND KEY STAGE 1 (Francis, B 2020)
Mathematics In the Early Years Foundation Stage
Our Early Years' mathematics curriculum is designing following the DfE statutory framework for the Early Years Foundation Stage 2021. Click here to read this document (pages 10, 12 & 13)
We use the NCETM Six Key areas of Early Mathematics Learning to support our teaching.
These are:
Cardinality and Counting
Comparison
Composition
Pattern
Shape and Space
Measures
Click here for more information
We also use the Development Matters non-statutory guidance (click here) and Birth to Five Matters guidance (click here) to support all our statutory responsibilities within the EYFS areas of learning and development and educational programmes, and to help children make progress towards all Early Learning Goals (ELGs).
We work collaboratively with the Yorkshire Ridings Maths Hub to make sure our teaching of mathematics is up-to-date with the latest research-based practice. Our Foundation Stage, Year 1 and Year 2 are currently a member of the NCETM - newly launched Mastering Number Program.
Mathematics in Key Stage 1 and Key Stage 2
Our KS1 and KS2 mathematics curriculum is designed following the National Curriculum for Mathematics to ensure that all pupils:
become fluent in the fundamentals of mathematics, including through varied and frequent practice with increasingly complex problems over time, so that pupils develop conceptual understanding and the ability to recall and apply knowledge rapidly and accurately.
reason mathematically by following a line of enquiry, conjecturing relationships and generalisations, and developing an argument, justification or proof using mathematical language
can solve problems by applying their mathematics to a variety of routine and non-routine problems with increasing sophistication, including breaking down problems into a series of simpler steps and persevering in seeking solutions.
We also follow the DfE Mathematics (non-statutory) Guidance Key Stages 1 and 2 (click here) which aims to:
bring greater coherence to the national curriculum by exposing core concepts in the national curriculum and demonstrating progression from year 1 to year 6
summarise the most important knowledge and understanding within each year group and important connections between these mathematical topics
At Welton, we use the NCETM Professional Development Spines and Curriculum Prioritisation Framework 2021-22 to support our teaching,